Krishna Manjari 2020: A Cultural Celebration of the Bhagavad Gita
(POSTPONED UNTIL FURTHER NOTICE)
Saturday, 7 March 2020, 5:30 pm
PGP Hall, 397 Serangoon Road, Singapore 218123
Leading performing artistes of Singapore and diverse community groups bring you a rare experience of Indian classical dance, semi-classical and folk dances, devotional music, skits on the theme of Bhagavad Gita. This will be followed by an enchanting BHAJAN CONCERT by young singing sensation SOORYAGAYATHRI.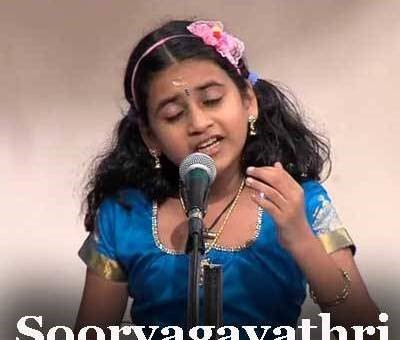 𝐒𝐎𝐎𝐑𝐘𝐀𝐆𝐀𝐘𝐀𝐓𝐇𝐑𝐈 (from India) is the young internet sensation with a golden voice who is capturing the hearts of music lovers across the globe, with over 150 million you tube viewership. The blessed singer whose Bhava -filled, soulful singing has been compared to that of the legendary doyenne, M S Subbulakshmi. She will be accompanied on Mridangam (percussion) by Anil (her father) and local artists.
There will also be an ART Exhibition on the theme of Bhagavad Gita/ Krishna / Spirituality.
Krishna Manjari 2020 is coordinated by Soorya (Singapore)
Admission and Dinner: S$10, S$ 50 (VIP)
Contacts for tickets : Chitra ( 9369 2920) / Patnaik (9456 2439) / Sandhya ( 8233 3890) / Sujith ( 8111 3931)

Ticketing Hotline (9389 0407) / gitajayanti.sg@gmail.com