International Gita Forum will be held on Sunday, 20 August 2017
Our Distinguished Speaker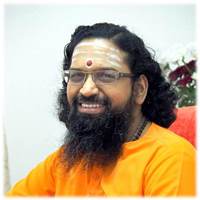 Swami Abhedananda
(Resident Acharya, Chinmaya Mission South Africa)
"Magic of Surrender"
Swami Abhedananda is the Resident Acharya in charge of Chinmaya Mission South Africa, and is based in Durban at present. Earlier, as the Resident Acharya of Chinmaya Seva Centre Singapore, he spearheaded the activities here for two years.
Over the years, he has travelled across India, Bahrain, Nepal, Singapore, Malaysia, Indonesia, and Africa, conducting several jnana yajnas, and spiritual retreat camps for adults, youth and children, tirelessly spreading the message of Swami Chinmayananda everywhere. His vibrant and dynamic personality, and oratorical skill in both English and Hindi appeal to people from all walks of life both in India and abroad. In the recent years, many of his thought-provoking articles have appeared in Tapovan Prasad, the spiritual monthly magazine of Chinmaya Mission.
Widely known for his depth of knowledge and command over the scriptures, Swamiji is a listener's treat. Swamiji's soul stirring talks are a perfect remedy for anyone aspiring to rise above one's negativities and establish a personal relationship with the Higher.
Event Information
Date: Sunday, 20 August 2017
Time: 5:00 pm to 6:30 pm
Venue: Sri Sivan Temple, Multipurpose Hall Level 2, 24 Geylang East Avenue 2, S 389752
Program:
Attendance at the Event is free, but registration is requested.